Welcome to techpedia
Techpedia, an initiative at SRISTI aims at putting the problems of micro, small and medium enterprises, informal sector, grassroots innovators and other social sectors on the agenda of the young technology students across the country. For over last sixty years, India has not utilized much the technological outputs of millions of students. But no more. Can a knowledge society really afford to ignore the huge talent distributed in thousands of polytechnics, diploma and degree colleges of engineering, pharmacy, medical science, agriculture etc.? SRISTI is providing a platform for the industry and academic institutions to collaborate, co-create and foster distributed and horizontal innovations. Most of the ideas mentioned here have been implemented and the initial results are shown extremely encouraging.
read more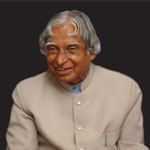 SRISTI and Honey Bee Network mourn the sad demise of former President of India, Bharat Ratna, Dr APJ Abdul Kalam whose birthday, Oct 15, has been celebrated by the Children's Creativity and Innovation Day. Dr Kalam who is also best known as missile man of India gave us the chance to take the grassroots innovations and children creativity to national stage. His inspiration enabled us to create an identity for the innovators & traditional knowledge holders to the new height at national and movement of grassroots innovation to global level. His loss is unimaginable and irreparable. We pray for his departed soul.
Recent Updates
GYTI Awardess 2017 concluded at Rashtrapati Bhawan on 5th March 2017. 39 innovators from all over India were recognized for their radical technological interventions in social, environmental medical and technological issues faced by masses; with solutions having the potential to impact pressing national needs.
SRISTI Inviting entries from the students for the GYTI awards 2018.
Industry Defined Projects
| | | | | |
| --- | --- | --- | --- | --- |
| Textile Technology | Metallurgy | Mechanical Engg | Instrumentation & Control | Information Technology |
| Food Technology | Environment Engg. | Electronics & Communication | Electrical Engg. | Computer Engg. |
| Civil Engg. | Chemical Engg. | Bio-Technology | Bio-Medical Engg. | Aeronautical Engineering |
News & Announcement
27 Mar, 2018 : Meerut youth bags Gandhian Young Technological Innovation Award for developing 'black box' of cars
27 Mar, 2018 : Uttarakhand Engineering Student Wins Gandhian Award For Developing 'Black Box' For Cars
View All
I am extremely happy to see an initiative of SRISTI (Society for Research and Initiatives for Sustainable Technologies and Institutions...
By Dr. A.P.J. Abdul Kalam
read more
Collaborator





Techpedia - Peru

Follow Us